Crypto crimes double in a year in Gujarat
AHMEDABAD: A city-based trader was in shock when he got to know that his digital wallet used for his cryptocurrency peer-to-peer (p2p) trading was frozen by authorities. The wallet came under the scanner when it got payment for a batch of crypto sale from an unverified account from the dark web. Along with losing his legitimate cryptocurrency, the trader also came under the scanner of the cyber watchdogs.
This is just one of the 192 applications received by the national cybercrime helpline (1930) from the state in 2022. A rough calculation indicates that the state recorded one case every two days.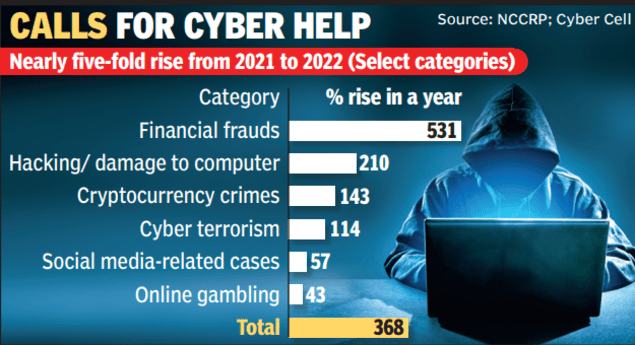 The total number had doubled from just 79 in 2021. City-based cybercrime experts said that in several of these cases, it's either greed or gullibility. Sunny Vaghela, a city-based cybersecurity expert, said that many just take to cryptocurrency with the lure of making quick bucks.
"But when it comes to safety features including use of escrow accounts or third-party apps, they are often not in place. The hackers exploit the vulnerabilities and target such transactions – in some cases, large sums are transferred within seconds," he said, adding that the complaints are still less due to possible involvement of unaccounted cash.
But it's not just crypto – the trend of high number of frauds, cheating, extortion, gaming and even hacking that started in Covid years due to high dependency on digital devices continued in 2022.
According to the state-based coordinators of National Cyber Crime Reporting Portal (NCCRP), the annual cases skyrocketed from 17,237 in 2021 to 80,681 in 2022. In simpler terms, the calls for help or applications of complaint rose from 47 to 221 daily on an average.
Among major categories, financial fraud accounted for 87% of the total complaints at 70,183, followed by social media-related crimes at 5,188.
Financial fraud and social media-related crimes accounted for 93% of the total complaints. Officials have also focused on these categories as it directly affects the citizens. Ajit Rajian, DCP (cyber cell) of Ahmedabad city police, said that the criminals have got smarter and are constantly changing their modus operandi.
"In several fraud cases, it's just the old wine in a new bottle, but with rise in digital device user base, they often find the gullible persons.
The medium often shifts from computers or laptops to smart phones. As it's often said, prevention is better than cure when it comes to such crimes," he said, adding that it's not just individuals, but also sometimes small firms that get targeted by organized groups by exploiting vulnerabilities.
S R Odedra, SP of cyber crime cell at state police's CID (crime), said that some of the categories that saw rise in numbers included cyber bullying, online stalking, and use of AI tools to make deep fake or morphed videos for sextortion to name a few. "We have even started counselling to the victims due to its psychological and emotional impact," he said.